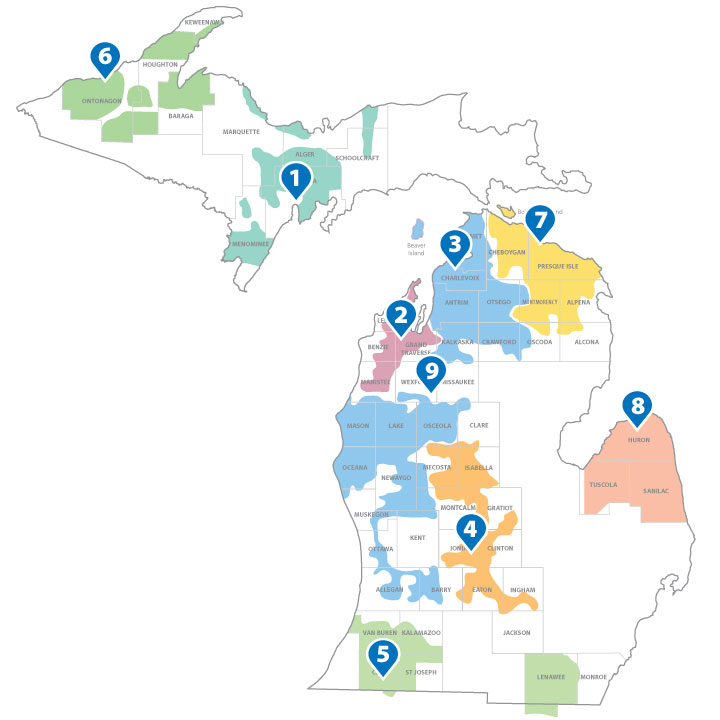 Michigan's electric cooperatives pay $14.5 million in property taxes annually.

Electric co-ops employ 770 people to serve approximately 275,000 consumer-members and businesses in Michigan.

Michigan co-ops maintain nearly 39,000 miles of energized line.

Nationally, electric co-ops serve 7 consumers per mile of line, compared with 35 consumers per line for investor-owned utilities and 47 consumers per mile for municipal systems.

Electric co-ops invest more in facilities per member than any other utilities but earn 85 percent less revenue per mile of line.
1. Alger Delta Cooperative Electric Association
426 North 9th St.
Gladstone, MI 49837
906-428-4141
algerdelta.com
2. Cherryland Electric Cooperative
5930 U.S. 31 South
P.O. Box 298
Grawn, MI 49637
231-486-9200
cherrylandelectric.coop
3. Great Lakes Energy Cooperative
1323 Boyne Ave.
Boyne City, MI 49712
888-485-2537
gtlakes.com
4. HomeWorks Tri-County Electric Cooperative
7973 E. Grand River Ave.
Portland, MI 48875
3681 Costabella Ave.
Blanchard, MI 49310
Service: 1-800-562-8232
Outages: 1-800-848-9333
HomeWorks.org
facebook.com/HomeWorks.org
tricoenergy@homeworks.org
5. Midwest Energy & Communications
60590 Decatur Rd.
Cassopolis, MI 49031
800.492.5989
teammidwest.com
6. Ontonagon County REA
501 J.K. Paul St.
Ontonagon, MI 49953
906-884-4151
ontonagon.coop

7. Presque Isle Electric & Gas Co-op
3149 Main St.
P.O Box 308
Onaway, MI 49765
989-733-8515
pieg.com

8. Thumb Electric Cooperative
2231 Main St.
Ubly, MI 48475
989-658-8571
tecmi.coop

9. Wolverine Power Supply Cooperative
10125 W. Watergate Rd.
Cadillac, MI 49601
231-775-5700
wpsci.com

9. Wolverine Power Marketing Cooperative
10125 W. Watergate Rd.
P.O. box 100
Cadillac, MI 49601
231-775-0172