More than 864,000 Michigan households were left without power last week after multiple rounds of severe windstorms rolled through the state. Gusts of up to 104 mph leveled hundreds of trees and launched trampolines and other debris into the branches of those left standing.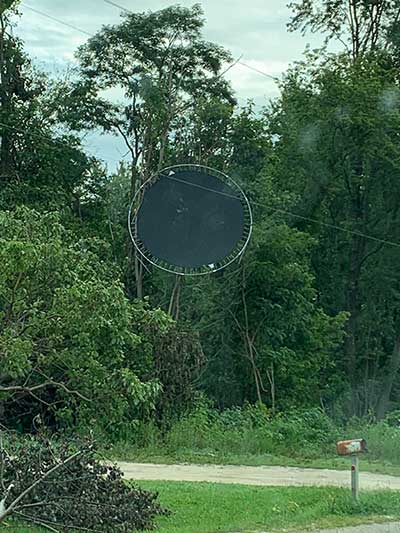 MECA Safety Director, Joe McElroy, was stranded at a Safety Summit conference in Florida when the calls for mutual aid started rolling in early Wednesday morning, Aug. 11.
"I tried getting on a standby flight back home but ended up managing the storm from the airport and my hotel room," he recalls. "Thankfully, we've all gotten pretty good at working remotely over the past year, so it was pretty seamless."
McElroy described the mutual aid event as one of the most challenging in his career.
"We experienced five back-to-back windstorms in a short, three-day period," he explains. "We had to deploy three waves of mutual aid crews to help get things under control."
Altogether, three utilities requested help, including Great Lakes Energy, Cherryland Electric Cooperative and the City of Sturgis.
Fourteen Michigan cooperative and municipal utilities sent aid, as well as Rock Falls municipal utility out of Illinois.
Crews worked around the clock to restore outages only to have their progress wiped out by another storm the following day. Numerous members experienced multiple power disruptions.
Great Lakes Energy restored over 70,000 outages with the help of 70 additional lineworkers on their system.
"It was a well-coordinated effort, and our members certainly appreciate the mutual aid assistance we received," said Great Lakes Energy CEO, Bill Scott.
The City of Sturgis was hardest-hit by the final storm. The municipal utility received mutual aid support from 70 additional journeymen, apprentices, tree trimmers and operators.
Cherryland Electric Cooperative experienced over 15,000 outages during the event, its first major storm since implementing a new text outage system.
"The new text system drastically reduced our call center volume and visits to our online outage map," said Cherryland Member Relations Manager, Rachel Johnson. "Our analytics show that members definitely prefer text messages and Facebook updates for storm communications."
The new system kept Cherryland members informed with nearly 51,000 text message updates.
Thanks to the commitment and responsiveness of our statewide mutual aid network teams, all cooperative and municipal power systems affected by the storms were fully restored by Aug. 18.