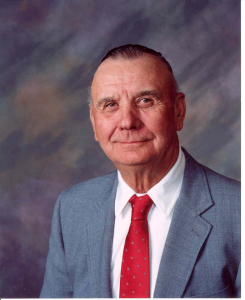 Presque Isle Electric & Gas Co-op director, Robert W. Wegmeyer, passed away suddenly at home on Tuesday, December 8, 2015. He was 84. He was preceded in death by his wife, Jeanne, in 2000. He is survived by two children, John (Laurie) Wegmeyer and Susan Crowell, 6 grandchildren and 3 great grandchildren.
Bob was a farmer his entire life. He loved his draft horses and was a long-time member of the Michigan Horse Pulling Association. Bob served on the Board of Directors for Presque Isle Electric & Gas Co-op since May 1975 and served as Treasurer until 2009. He was also a charter member of Alpena Country Club.
According to PIE&G CEO Brian Burns, "Bob reflected the values of northeast Michigan, and he was famous for his one or two sentence campaign speeches, which generally resulted in a landslide victory every time he was up for re-election – something today's politicians would be wise to consider. But Bob was by no means political; rather, he was direct and very conservative." Burns added, "Although I haven't researched the records, I believe Bob's 40-year tenure on the board is the longest of any PIE&G director ever – past or present."
Visitation will take place at the Bannan Funeral Home in Alpena on Dec. 11 from 2 p.m. – 8 p.m. Visitation will continue on Saturday, beginning at 10 a.m. at St. Matthew Lutheran Church, 7109 Wolf Creek Rd., Herron, MI, until the funeral service at 11 a.m. For more information, please visit bannanfuneralhome.com.