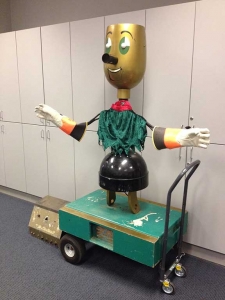 Remember Willie Wiredhand? He's the 60-year-old friendly face and national spokesplug of rural electric co-ops, and is alive and well.
While not showcased in every state or co-op, he still appears annually on Christmas ornaments available from NRECA, some co-op publications, annual meetings, and co-op offices like the figure above that communications staff at the Electric Power Associations of Mississippi is currently displaying.
"Our Willie Wiredhand is about 5 feet tall," says Debbie Stringer, editor of the statewide co-op magazine, Today in Mississippi. "Since we found him this year in a storage shed, he's been our department's mascot. In younger days, he would talk, move his mouth and turn his head, with the help of the tube-filled box (lower left)," she explains. "One of our co-ops recently displayed him as part of their 75th anniversary annual meeting."
Adopted and copyrighted in 1951 by the National Rural Electric Cooperative Association (NRECA), Willie's last name is one of the original nicknames for rural electric cooperatives: "wiredhand" (because electricity brought to rural America by co-ops in the 1930s and '40s was the never-tiring, always available hired hand to help the nation's farmers.) Willie's 'birthday' is Oct. 30, the day before Halloween and the next to the last day of National Co-op Month.
Willie — with his light-socket head, wire body and electrical plug for his bottom and legs — is now considered an icon among many in the class of corporate advertising characters. To learn more about his life story, check out 'Golden Boy', written by Richard G. Biever , senior editor of Electric Consumer, which is published by the Indiana Statewide Association of Rural Electric Cooperatives. Also, visit Willie's World, a virtual fun house and clearinghouse of all things related to Willie Wiredhand ©NRECA.
If you have a Willie Wiredhand figure at home or your Michigan electric co-op office we'd like to see it, send a photo and short description to gknudtson@meca.coop and we'll publish it in this newsletter.
Happy holidays from Willie Wiredhand and your friends at the Michigan Electric Cooperative Association!