The remote town of Onaway, Michigan—population 880—is not an obvious pick to install a new electric vehicle (EV) charging station. While most EV charging stations today are in urban areas or along expressways, Michigan's electric cooperatives are planning for a different future. Placing chargers in rural areas will allow EV drivers to visit smaller communities, while providing a boost to local economies.
Michigan's electric co-ops began deploying EV charging stations several years ago. Notable milestones include when Presque Isle Electric & Gas Co-op (PIE&G) installed the first co-op public charger at Tom's Family Market in Onaway (2017), and when Cherryland Electric Cooperative partnered with Blain's Farm & Fleet in Traverse City to install the first Level 3 DC Fast Charger in Northern Michigan (2020).
This year, PIE&G and Great Lakes Energy plan to add 54 additional public EV charging stations throughout rural Michigan.
Presque Isle Electric & Gas Co-op
PIE&G is set to deploy over 50 EV charging stations. The co-op's new headquarters building will include 15 chargers total—12 (Level 1) for employee charging and three (Level 2) for member and guest parking. PIE&G is also collaborating with member organizations to install 36 high-power Level 2 stations across its service territory.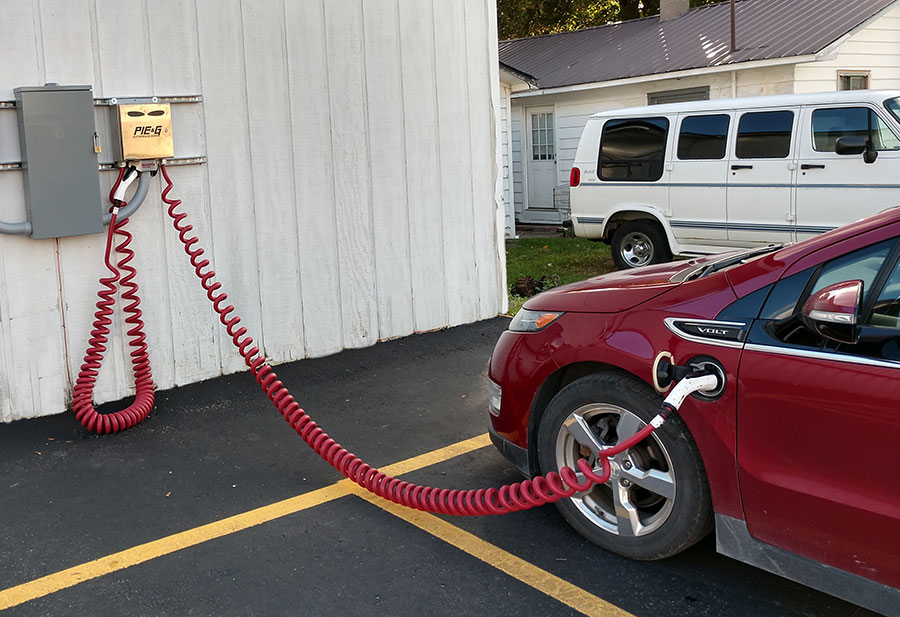 "We view the deployment of EV charging stations in northeast Michigan as a two-pronged approach to growth," explains PIE&G CEO Tom Sobeck. "First, the presence of charging stations makes the purchase of an EV more attractive to our members. They'll be able to take trips with less anxiety as the charging stations will provide some reassurance that a re-charge is available.  Secondly, it opens our region to tourists who own EVs. Both cases promote the use of EVs in our region and enhance the area's economic prospects."
Not long after their EV station in Onaway was energized, PIE&G installed the next two charging stations at  Briley Township Park in Atlanta and at Albert Township Park in Lewiston. For the remainder of their installations, PIE&G will give priority consideration to education and health care facilities, grocery stores, parks, and locations along major travel routes. EV drivers will be able to add as much as 60 miles of range per hour plugged in, depending on the vehicle, while dining at a restaurant or shopping in town.
Great Lakes Energy
Great Lakes Energy will unveil a new charging depot in Scottsville this spring. The depot will house 4 Level 3 DC Fast-Chargers in close proximity to its co-op facility along U.S. Highway 10.
It's an ideal location for people traveling from Grand Rapids, Holland or Muskegon to get a charge on their way up to Traverse City, Petoskey or even Mackinaw City. A short 30-minute stop at the charging depot will supply drivers with an 80% charge.
"It's part of our mission to embrace new technology," said Brett Streby, communications and marketing manager for Great Lakes Energy. "There are many benefits of electric vehicles that pique the interest of our members. As an electric co-op, we want to foster that interest and help with the initiative."
The cost to bring these new EV chargers to rural Michigan was partially funded by the Wolverine Power Cooperative economic development fund and a grant from the Michigan Department of Environment, Great Lakes and Energy (EGLE).
By expanding the state's EV charging network in communities throughout rural Michigan, co-ops hope to improve environmental health, economic development and quality of life.